Pets and sliding doors can make for hilarious YouTube videos. You've probably seen dogs trying to walk right through them to get to a lizard on the other side, or watched a cat get spooked by their reflection in the shiny glass. 
But funny antics aside, a sliding glass patio door can also be a hassle when you have pets. And in some cases, they might even be dangerous. 
Think about how many times you have to open the door to let your pet outside. Now, multiply that times two because your pet will also need to come in. It's not hard to open a door, but it's not always convenient to drop everything you're doing to let your pet in or out. It's even worse when your pet starts getting vocal about their desire to enter or exit the home.
And what happens if you don't make it to the door on time? Chances are, you might have a mess on your floor and an extra task on your to-do list. 
Many homeowners put a bar in their sliding glass door track to prevent break-ins, and if you're letting your pet into the backyard a dozen times a day or more, removing that bar is a lot of extra work. Sure, you could remove the bar during the day and replace it each night, but that also means having to remember to do so when you go to bed or leave the house.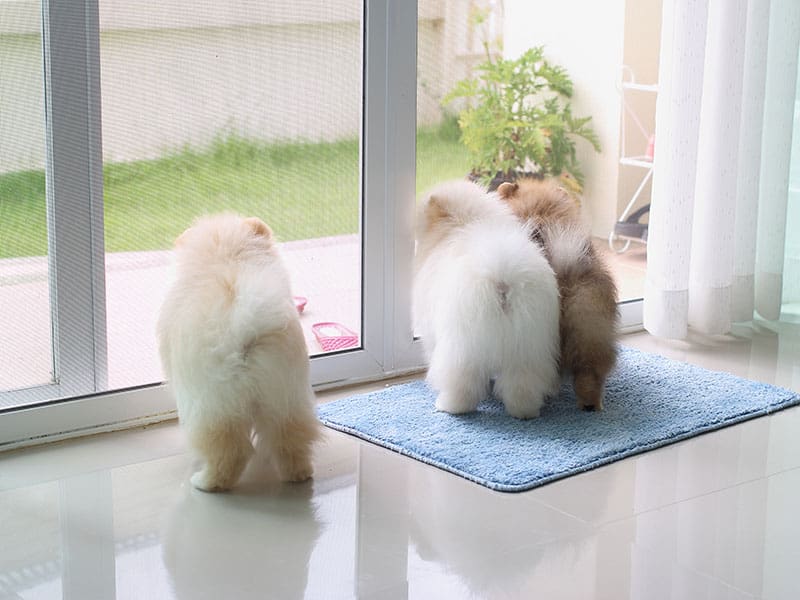 There are a few safety issues with sliding glass doors pet owners should be aware of. For starters, the door threshold tends to be a bit higher with a sliding patio door than a regular door, which could pose a trip hazard. 
And, there's always the risk of a pet hurting themselves when trying to go out a closed patio door they think is open. The clean, shiny glass looks like one big entry to the outside world, and eager pets who are ready to play may charge full speed into the glass.
The Solution: Built-in Pet Door on Sliding Glass Patio Doors
At American Windows of DFW, we're putting an end to the frustrations pet owners experience with sliding glass doors. Our new line of Anlin's Freedom+ in-glass pet doors features built-in pet doors in a range of sizes so that pets can come and go as they please. This means no more accidents because you couldn't get to the door on time, no more claw marks on the door when your pets want to come inside, and happier pets who can play and exercise when the mood strikes.
A heavy-duty frame includes a durable flap with magnetic closure and weather-strip to keep outdoor elements in their place. And because they're factory-installed rather than after-market, you won't have to worry about leaks or installation issues.
Stop playing doorman to your pet — reach out today to get a quote for sliding glass patio doors with built-in pet doors. It will be hard to tell who's happier with the results: you or your pet!